Description
Member's Mark™ California Pistachios are dry roasted and dusted with sea salt for a crunchy, savory taste you can't resist. Our premium in-shell pistachios are a great source of protein, vitamins and minerals that make a healthy addition to every day. Snap open and enjoy the irresistible fresh flavor and texture of Member's Mark pistachios. You'll keep coming back for that tempting crunch.
Looking for a Protein and Healthy Boost to Your Day?
A one-ounce serving of these premium California-grown pistachios contains a whopping six grams of protein to keep you full until dinner. These dry-roasted pistachios are also rich in omega-3 fatty acids, which is known to lower levels of bad cholesterol and improve levels of good cholesterol. Member's Mark California Pistachios are also a great source of antioxidants, minerals and vitamins, including B6.
Member's Mark Dry-Roasted Pistachios are a protein- and vitamin-rich snack that everyone can enjoy. These non-GMO pistachios are a healthy addition into any vegan, gluten-free or kosher diet.
Looking for a Quick Snack that Everyone Will Love?
Member's Mark California Pistachios are the perfect on-the-go snack to satisfy a craving. Divvy up individual portions prior to a road trip or before the work week begins for a healthy snack when you need it. Heart-healthy pistachios contain key protein and vitamins to fuel you as a post-workout snack and have been proven to aid in weight management.
Add Them into Your Favorite Recipe
De-shell and crumble a few of these salty California pistachios on top of some ice cream or bake them into your favorite cookie recipe to elevate and impress. Add a few crushed, dry-roasted pistachios to some breading on top of some baked salmon for added texture. Add our pistachio nuts to a charcuterie plate for some pop!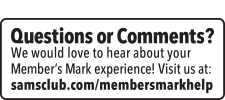 Policies & plans
Specifications
Dry roasted with sea salt
Kosher
Net weight: 3 pounds (48 ounces)
Payment & Security
Your payment information is processed securely. We do not store credit card details nor have access to your credit card information.